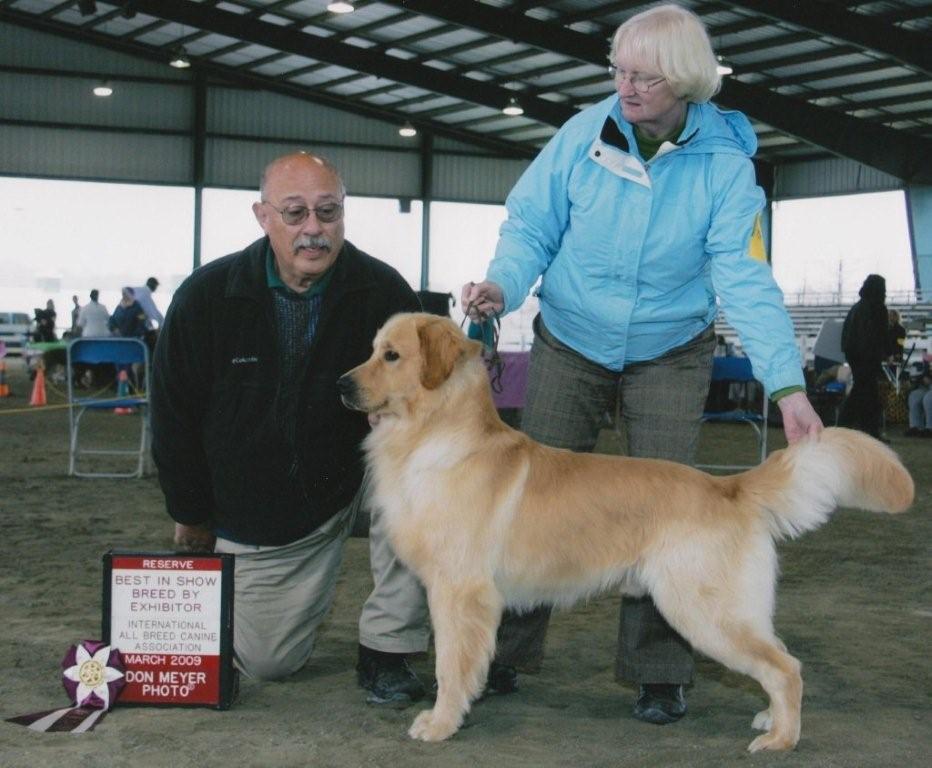 In 1996 I got my first Golden Retriever, a tiny ball of fur even smaller than our cat. We called her Megan, and she was a fully charged golden dynamo. She was quite hyperactive, and not at all calm as Goldens should be. She was, however, very sweet natured, and I decided to get a second Golden when Megan was a little over a year old. This puppy, Ginger, was entirely a different temperament, very laid back and relaxed. Ginger turned out to be our foundation bitch, while poor Megan was spayed.

My love for Goldens started with those two very different dogs, and I have been breeding them for the past fourteen years. Goldens were bred to be hunting dogs, and I strive to keep that hunting instinct in my puppies. Our Rosie has field trial champions in her line, and I have bred her to some beautiful champions to get the right combination of conformation and field interest. Two of Rosie's pups have won International Championships, and we will be showing a puppy from last year's litter soon.

Roger and I moved to our current location in order to have more room for our dogs, and to expand our breeding program. Our youngsters are getting old enough for breeding, and I am anxious to see the puppies from them as we improve our lines. We are still a very small operation, and will not have more than 3-4 litters a year.

We are members of the Golden Retriever Club of America, and locally, the Tarheel Golden Retriever Club. I find that these memberships help to keep us up to date on Golden happenings, and gives us great contacts with other local breeders.